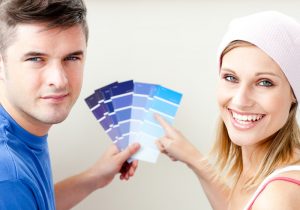 When you are planning a new coat of paint to your home, it is important to know what type of paint you are covering. Always check the type of current paint by testing a small area with acetone – if the paint turns soft and sticky, it is latex, however if there is no change to the paint at all, it is an old oil-based product.
How you tackle your painting project will depend on the type of paint that is currently on your walls.  For example, you will need a layer of bonding primer if you are painting latex over an oil-based product.
Due to updated Ministry of the Environment and Climate Change regulations, oil-based alkyd is no longer available as a topcoat.  Therefore for high traffic areas like indoor trim, cabinets and doors, the durability of water-based alkyd paint makes it an excellent choice. Latex, however, is the more common choice for other surfaces, largely because its easier to apply and is cost effective.
Here are some of the different sheens that you can opt for in your home. Be aware that sheens differ amongst manufacturers – ask for samples so you can be sure of what you are buying:
Matte/Flat
This finish is easy to apply and hides irregularities. The glare-free finish makes it ideal for ceilings.
Eggshell or Low sheen
This paint strikes a balance between a matte finish and semi-gloss. Eggshell finishes are soft, but are more washable than low sheen finishes. So, it works well in areas of your home that need regular washing, such as the kids play room.
Semi-Gloss
Common for trim, doors and cabinets. For DIY'ers, the application of a semi-gloss is trickier than lower sheen finishes, but it does a lot better in the kitchen or bathroom. These rooms need a high degree of wash-ability.
High Gloss
This paint is rarely used and inexperienced painters need to be very careful when applying a high gloss paint. One needs to be diligent in prepping the surface and painting evenly. However, the up-side to a high gloss is that the finish is highly reflective, easy to keep clean and looks great on a brightly coloured front door.
Choosing the right sheen of paint is just the first step. You also need to consider colors, tools and technique. Still thinking of doing the paint job yourself? If you're inexperienced, or tackling a tough area then you should give the pros at Refined Painting a call before you pick up a brush.