At Refined Painting, no job is too big or small, but some are much larger in scale than others. A great example can be seen in a project that we recently finished. Refinishing this massive board and batten exterior included the scraping, power washing and painting of this beautiful country home.
Board and batten, or board-and-batten siding, describes a type of exterior siding or interior paneling that has alternating wide boards and narrow wooden strips, called battens. The boards are usually (but not always) 1 foot wide. The boards may be placed horizontally or vertically. The battens are usually (but not always) about 1/2 inch wide.
Historically and traditionally, a wooden batten would be placed over a seam between the wide boards, creating a stronger and more energy-efficient siding.
For this project, the home's exterior was made up of board and batten (see above photo). Due to the amount of sunlight that parts of the home received, the UV rays degraded the existing stain much quicker than areas of the house that were in the shade. Black mold was found where there was less breeze and air flow and needed to be removed.
Ensuring that the product was UV resistant was important. The homeowner (an engineer) did research on the product years ago when he did the re-staining himself and we used the same product again.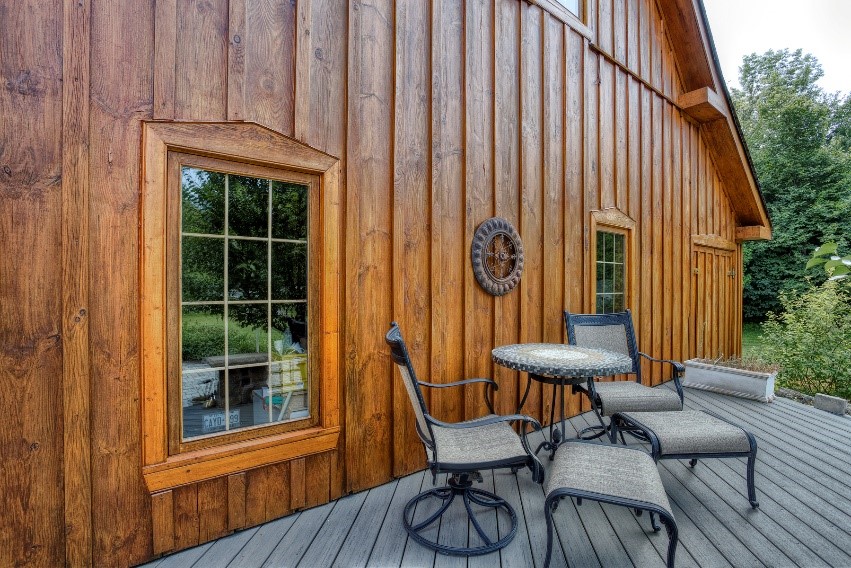 This complex and time-consuming job involved a number of steps that needed to be completed in the right order to be able to yield the proper results.
Our team of three painters worked full time to hand-scrape and sand off the UV degraded coat on the exterior of house.
We then washed down the home with a hydrogen peroxide solution to remove mold and any other stuck on bits. To do this we used a garden sprayer and a scrubby broom. Some parts of the home had to have this step done multiple times to get the black mold completely off.
We then sanded the home's exterior again by hand using pole sanders.
We pressure washed entire home to create a clean and flat surface area, and to remove any remaining hydrogen peroxide.
Once again, we sanded to remove any wood fibers that popped up from the pressure washing process.
Next, we began staining the house using the sprayer system that the homeowner had designed. He created a pump spray machine with a garden sprayer handle, a hose and a motorcycle battery. It worked quite well.
After we added the stain solution to the home using the homemade sprayer system, we brushed it in by hand. We used the same stain product that the homeowner had previously used on the home.
We then waited 24 hours and applied a top coat using the same method. This could not be done in the sun, so had to move around to different parts of the home depending on where the sun was to ensure we covered it completely while never applying the product in direct sunlight.
Time and resources
This job took the dedicated work of a crew that was typically made up of three to four people. One person spraying, one person brushing and one person brushing and moving ladders seemed to work best. The job took roughly three weeks to complete from beginning to end.
This particular project included the use of a wide variety of ladders, gooseneck brushes (which have bendy handles) and pole sanders. Parts of the exterior had to be covered and protected, such as windows, the deck and some garden features. We were also careful to hand brush around the windows to ensure the various products we used didn't damage them.
When the homeowners completed this project on their own several years ago, it took them three years to finish! We're proud that our team was able to produce beautiful, lasting results in just three weeks!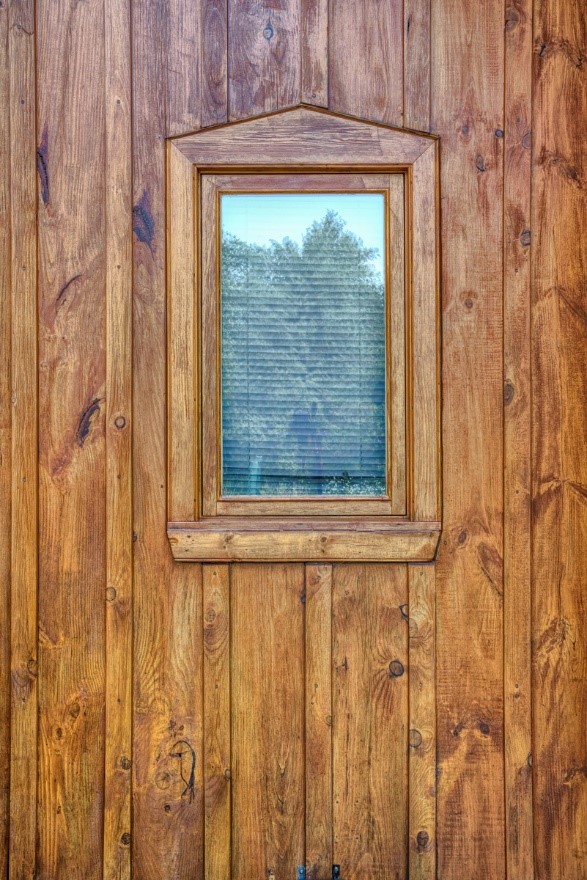 We love a challenge!
This project was difficult, challenging, time consuming and highly technical, but seeing the end result was extremely rewarding. A job like this really showcases how vital it is to have an experienced, dedicated team; one that is not only physically capable, but also mentally tough to handle the ups and downs and keep doing a consistently great job.
The homeowners know that in roughly three years, we will need to come back to pressure wash and recoat the parts of the home that receive heavy sunlight to avoid any added damage from UV rays, which can damage the wood of the home and lead to degraded finish. Also, when the wood doesn't dry enough and there is poor air circulation, black mold can begin to build.
Keeping up on maintenance and preventative maintenance is extremely important in a case like this, and we were glad to help.
Do you have a technical job that needs the attention of a special team? Contact the pros at Refined Painting to discuss your needs.