What lengths would you go to preserve a piece of your family's history? Nancy Anderson had long dreamed of restoring her grandparents' home to its original glory, for the town of Ayr and for her family to enjoy. The property, 110 Stanley Street in Ayr is where her grandparents lived from 1923 until the late 1950s when they moved into a house in town which her grandfather had built. Nancy's grandmother, Rena Twiss, who was a milliner (hat maker) was originally from Stratford and moved to Ayr in 1923 with her husband, Jim Grimmer and their two daughters, Ruth (4) and Maxine (2).
Nancy's grandfather built and finished the upstairs apartment at 110 Stanley Street, which is why it is so valuable to the Dilly/Anderson/Stager families today. Nancy's grandfather, Jim Grimmer, ran a tinsmith and plumbing business out of the main floor commercial space. But although her grandfather put his sweat and love into finishing the building, it's the memories that the family has there that make the home irreplaceable.
In 1918, Nancy's grandparents, Jim and Rena were married while Rena had the Spanish flu. And, when Nancy's uncle, Bob Stager, a local Ayr farm boy, was captured by the Japanese in WWII  and spent the last four years of the war as a POW in Hong Kong, it was here, in this apartment, that her Aunt Ruth received the call from California where he said he had been released. It was during this emotional phone call that he proposed marriage.
With fond memories of the historic home that she and her brothers visited and played in when they were young, Nancy was sad to see it sold in 1959 to the Struthers family, a well-known and loved family in the Ayr community. Nancy had always dreamed of buying it and bringing it back into the family. "For 35 years I have wanted to buy this building and fix it up for the town of Ayr," she says. She wrote to Mr. Struthers and asked him if he would sell her the building and the rest is history.
"A lot of things, brass candlesticks and a pine box brought over from Ireland in 1856 have been returned to the apartment as my mother had saved them," Nancy says. "But it needed some love," to once again be the home of Nancy's childhood memories. With the help of Guelph-based Centrix Building Group Inc., Nancy saw the building mostly gutted, although they were able to save the floors, doors and had the original kitchen sink re-glazed as well as a few other historic features which Nancy simply couldn't part with. One of the original features was the tin cornice across the upper front of the building which was built by her grandfather. This restoration took some diligence and some love to bring back to life, but was in good hands with Refined Painting. "Suzanna came highly recommended by Centrix," Nancy says. "it looks wonderful and she was great to work with. We instantly connected."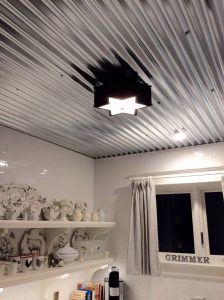 Now that the building is restored, Nancy's older brother, Mike, who lives in West Virginia, "comes back to be at the apartment as often as he can," she says. "It was the happiest time as a young boy, staying here."
The restoration project isn't the end of the building's story, though. It continues to play a central role in the village of Ayr from a historic and an economic perspective, especially considering that it's currently housing the town's only stores. "I want to be a new business incubator," Nancy says, who hopes that the investment in restoring the historic building will help revive business in Ayr. Those businesses currently include One Black Sheep, an antique and gift store owned by Dana Dotchin of Paris. Nancy's brother, Chris, works in the shop four days a week.
Sharing the space in the building is a ReMax Real Estate information center run by Susie Struthers Hegan and Mandy Roth. Susie is the granddaughter of the second owner, Lorne Struthers. Seeing these small businesses find their roots in Ayr has special meaning for Nancy. "My mother was a real estate agent and owned an antique store, so I think the building would be even more special for her now," she says.
Are you in the Ayr area? Stop by 110 Stanley Street to see this historic building and share your own local story or memory.